This official website is maintained by the Claims Administrator for Automobile Antitrust Cases I and II , JCCP Nos. 4298 and 4303, Master File No. 19-md-02878 pending in the Superior Court of the State of California, For the County of San Francisco.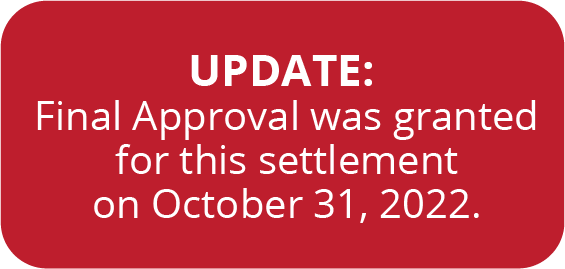 Your rights may be affected by a class action settlement.
The Court has approved the settlement. The Claims Administrator is currently processing the claims that were filed. This website will be updated when the claims processing is complete. Distribution of the payments form the settlement funds will occur when the claims processing is complete and the Court has approved the planned distribution of the funds
Update: On October 31, 2022, the Court granted Final Approval of the Settlement with Ford Canada, entered the judgment, and awarded fees and costs to Class Counsel and service awards to two named plaintiffs. These orders and the judgment are posted here on this website. At this time, distribution does not have a set date. Once a date has been set it will be posted here. Please see the Long-Form Notice (available by clicking the "Notice" tab at the top of this web page) to learn more about the Settlement, to determine whether you are a Class Member, and to learn how to file a claim.

The lawsuit that is the subject of the proposed settlement alleges that several large automakers conspired with each other to prevent closely similar, but less expensive, new vehicles sold in Canada from being exported to the United States. The lawsuit further alleges that by conspiring to prevent this cheaper supply of cars and trucks from entering the U.S. market, the automakers kept prices of new cars in California higher than they should have been. The lawsuit seeks compensation from Ford Canada under California antitrust law.

This lawsuit began in Spring 2003, over 19 years ago. This case is pending in the California Superior Court for the County of San Francisco before the Honorable Anne-Christine Massullo ("Court") and is called Automobile Antitrust Cases I and II, case numbers JCCP 4298 and 4303. Ford Canada is the last remaining defendant in this case. If the settlement with Ford Canada is approved, Ford Canada will be dismissed from the case and the lawsuit will be over.

The parties agreed to settle this case just three weeks prior to the start of trial, after nearly 19 years of litigation. During the litigation, the parties engaged in extensive discovery of evidence, including completing over 100 depositions and reviewing millions of pages of documents. The parties also litigated multiple rounds of summary judgment motions and several appeals.

There were three prior settlements in this case and related cases. Two defendants, Toyota Motor Sales, U.S.A., Inc., and the Canadian Automobile Dealers' Association ("CADA"), entered settlement agreements and agreed to pay a combined $35.7 million to settle the claims against them. Defendant General Motors of Canada, Ltd., entered a settlement agreement and agreed to pay $20.15 million to settle the claims against it. These settlements were approved by the appropriate courts and the settlement money was distributed to authorized claimants. If you filed a claim in one of these prior settlements, you may be eligible to file a claim for a share of the Ford Canada settlement as well. See "Who Is Included in this Settlement" below for more information.


Who is Included?
You are a Class Member if you meet all of the following requirements:

a. You purchased or leased a new motor vehicle (passenger car, light-duty truck or sport utility vehicle ("SUV")) during the period January 1, 2001 through April 30, 2003 (the "Class Period"); and

b. You purchased or leased your vehicle from an authorized automobile dealer located in California that sells new vehicles directly to customers; and

c. The vehicle you purchased or leased was one of the following makes: Acura, Buick, Cadillac, Chevrolet, Chrysler, Dodge, Ford, GMC, Honda, Hummer, Infiniti, Jaguar, Jeep, Land Rover, Lexus, Lincoln, Mazda, Mercury, Nissan, Oldsmobile, Plymouth, Pontiac, Saab, Saturn, Toyota, or Volvo ; and

d. You resided in California on November 15, 2010; and

e. You are not, or at the time of your vehicle purchase or lease were not, a Defendant; an officer, director or employee of any Defendant; an entity in which any Defendant has a controlling interest; an affiliate, legal representative, attorney, heir or assign of any Defendant; a governmental entity; or any judge, justice or judicial officer presiding over this lawsuit or a member of their immediate families or judicial staffs; and

f. You did not previously submit a valid request to exclude yourself from the Class.

Those who meet these requirements are "Class Members." If the settlement is approved and becomes final, you will have released your claims against Ford Canada and are eligible to file a claim for a share of the settlement fund.


If you meet the definition of "Who is Included?" as detailed above, you ARE a class member. You will remain a class member if you do nothing
YOUR LEGAL RIGHTS AND OPTIONS IN THESE SETTLEMENTS:
Submit a Claim (by Dec. 31, 2022)
The date to file a claim has passed.
Object (by Sept. 12, 2022)
If you wish to object, you must write to the Court about why you don't like the proposed settlement. See Paragraph 14 of the Notice for more information about objecting to the settlement.
Go to a Hearing
You may ask to speak in court about the proposed settlement. See Paragraphs 15 to 18 of the Notice for more information regarding the Court's fairness hearing.
Do Nothing
If you do nothing, you will get no payment. But if you are a Class Member, you will be releasing Ford Canada from all of your claims in this lawsuit. See Paragraph 19 of the Notice for more information on what happens if you do nothing.